There are 5 easy steps to placing an order with us:
Stage 1
Sign in / Create an account / Or Shop as a Guest
Add all the great kit you want to purchase to your basket. If you've shopped with us before just use your registered email address and password to log into your personal details.
If you're a new customer you can create an account, following the simple instructions at this stage of the process. You can also shop with us using guest checkout.
Stage 2
Select shipping address
Please select which address you wish to use for invoicing and delivery. At this stage you can also add a new address to your account.
Stage 3
Shipping options
Use the drop down arrow to view the alternative shipping methods you can choose:
If you would like to see more detail about the shipping options please.
Stage 4
Payment details
If you have a Promo Code or Gift Voucher enter it during checkout to see your new order total: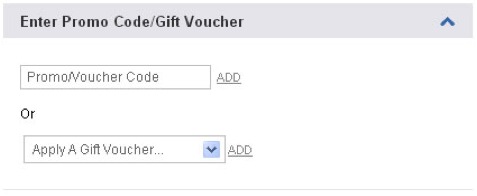 Stage 5
Order confirmation
Once you place your order a new screen will appear confirming your order has successfully completed. On this screen will be your order number. Please print this screen for your own records and use this number should you need to contact us about the order.
If you have signed out as a guest you can also link your order to your our shop account or create an account to make it easier next time: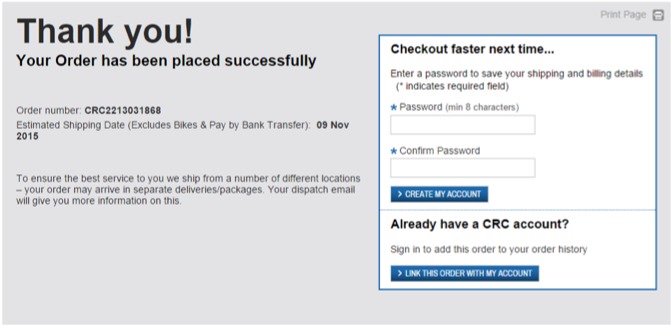 We will send you an email as confirmation of the order details to your registered email address and will send another email when the order has been dispatched.
If you need to make any changes to your order, click on 'VIEW YOUR ORDER HISTORY', find the order you have just placed and click on '>VIEW ORDER DETAILS'. Once in the detailed order screen you will be able to cancel your order for up to 5 minutes.
You can pay using credit card, Paypal and even PayPal Credit on certain products.
The currencies available to you will depend on the country setting chosen in your My Setting selection. Choose your location and select your currency from the available options in the currency drop down at the top right of the website:
We transact in the following currencies
GBP, EURO, USD, AUS $, CAN $, RUBEL, CHF, YEN, DKK, NOK and SEK.
There are other viewable currencies on our site to help give you guidance on the cost of the product in your local currency but we will only transact in the currencies above. We use the Bank of England conversion rates and these may be different to other sites. Your bank may charge an international transaction fee if you pay in a currency different to your banks primary currency.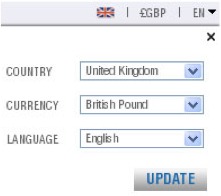 We accept most major credit and debit cards for online orders and you'll be asked to enter your card details and the name and address of the card holder when you place your order. We'll then check your details and we may hold an order until we receive the correct details. Don't worry, we'll contact you if there's a problem with your card or address.
You can pay with the following credit and debit cards:
 Visa (Visa Electron & Visa Debit)
 MasterCard
 Maestro
 American Express
PayPal is a simple, quick and secure way of paying online, all you need is a PayPal account. For more details go to the PayPal website (please note that orders paid for using PayPal will be charged in full, which includes the cost of any out of stock items).
To pay by PayPal simply follow the steps below:
Create your order as normal
At the payment stage select 'Pay with PayPal'
You will be redirected to your PayPal account to authorise payment.
You will then return to our shop to confirm all your details and complete your order. Please ensure that the right shipping address is on your order before clicking 'Confirm'.
Once completed, you will receive an order confirmation from us to your PayPal email address
We accept PayPal payments in GBP Sterling, Euro, US Dollars, Australian Dollars, Canadian Dollars, Japanese Yen, Norwegian and Danish Krone, Swedish Krona and Swiss Francs. For other countries and currencies we show exchange rates based on the Bank of England rate. If you purchase through PayPal they'll apply their own exchange rates and you may see a slight difference in the amount you pay. PayPal exchange rates are fully explained in their terms and conditions.
You may have mistakenly checked out as a guest using your 'Paypal' email address. To check if your order is registered to your PayPal email address click 'Your Account' at the top of any our shop web page and click '>TRACK YOUR ORDER' under 'No account?'. Enter your Order Number and PayPal registered email address. If you still can't find any detail of your account please contact our Customer Support Team.
Unfortunately not but if you need a quote for business purposes we can do that for you. Contact our Customer Support Team and they will put together a quote for products.
Absolutely, this is a great benefit scheme and we have very comprehensive order information section dedicated to everything you need to know about our shop Bank Information.
We offer a Best Price Guarantee which means that up to seven days after purchase we will refund the difference if you find any of our products on offer at a lower price with one of our named competitors [UK only]. Follow through to our Best Price Guarantee link to find out how.
No, orders are payable and invoiced at the online rates you see on our web site.
However, you can order from us as a customer and still make great use of our fantastic online prices to purchase for your business. The invoice in your order will contain our VAT information in your delivery country.
You should contact your local customs office if your require any further information.
BFPO addresses must be entered into the fields in our online order form in a specific format, as shown below for example:
Full name: Rank, Name
Address line 1: Company, Regiment
Address line 2: BFPO ### (eg: BFPO 123)
Town/City: Ruislip
County: Middlesex
Postcode: HA4 6DQ
Country: Belgium
The BFPO website contains a list of goods which may not be shipped to BFPO addresses, click here for further information.
Large items including bikes, frames, trainers, bike boxes and workstands may not be sent to BFPO addresses. This is a restriction set by the BFPO.
We are currently unable to remove VAT from goods and orders that are shipped to BFPO addresses. However, if you wish to place an order for the items that you require, please email us once you have received delivery, and then we can then refund the cost of VAT back to you without delay.
Please note that we can reimburse the VAT paid on orders within the past 3 months, please ensure you contact us early enough after receipt of your goods to avoid disappointment.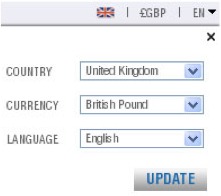 If you're a customer outside the VAT territory of the EU, such as the Channel and Canary Islands, you should ensure you choose United Kingdom – Channel Islands and Spain – Canary Islands
If your delivery country is outside the EU, all the prices will be VAT free. Please note that packages may however be assessed for import or customs fees, depending on the laws of your particular country.en entering your destination address to ensure VAT-free and the correct shipping method is applied. For all other EU countries VAT is already included in the price depending on the destination country.
This could be happening due to an error with your payment or address details – It is simple to fix.
The billing address information that you have stored on your Our shop account or during checkout, needs to match the address that your payment provider has on record.
Please ensure all the details in our record of your billing address match the details your bank has, it is likely this is your home address.
Also please check your postcode is formulated correctly, numerically and alphabetically correct. Once both addresses are matching you should have no trouble getting through our check out process.